The 2015 Soring Cup National Road Races proved to be a successful one for East Coast Racing and Lee Johnston.
In bright crisp windy conditions Lee competing on East Coast Racing's 675 Daytona Triumph clinched second place finish in opening junior A race as the two time North West 200 winner began his 2015 road racing campaign in top style.
Spring cup A final first leg would see S1000RR BMW mounted Lee show good pace throughout whilst opening senior race would prove to be hugely productive for the third place finisher in 2014 Steve Henshaw international gold cup.
Third place finish was achieved as the three time international road race winner proved once again his undoubted pace around Oliver's Mount.
Looking to TT 2015 East Coast Racing team owner Phil Reed is confident that Lee can be victorious for the first time at the road race where Lee's current personal best finish is 5th in 2014 superstock TT.
The S1000RR BMW that he will be competing on at TT 2015 is set to have in it a factory BMW Motorrad engine.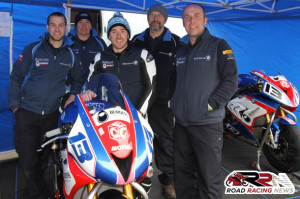 Armed with top class machinery and added experience around the mountain course general Lee goes into this year's Isle of Man TT amongst favourites for race victories in superbike, supersport, superstock, senior races.