Powering to pole position for today's opening IRRC Supersport encounter at Imatranajo, event wildcard Pauli Pekkanen headed in impressive fashion combined IRRC Supersport qualifying.
MV Agusta mounted Pekkanen, time of 1 minute 57.127 seconds gave him a pace advantage of over one second over nearest challenger Matthieu Lagrive (1.58.321).
Wepol Racing's Lagrive who continues to impress on his Imatranajo debut was in turn over 1 and half seconds clear of third quickest Thomas Walther (2.00.039).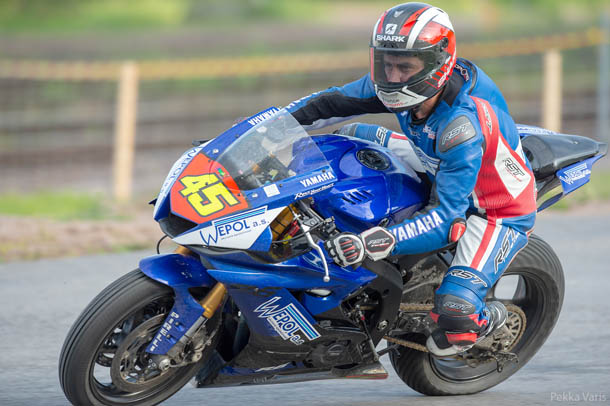 Photo by Pekka Varis
Fourth, fifth and sixth fastest respectively, Laurent Hoffmann (2.00.322), Jonathan Goetschy (2.00.568), Anssi Koski (2.00.577) were all evenly matched pace wise.
Same applied to the seventh and eighth quickest duo of Performance Racing Achterhoek's Pierre Yves Bian (2.00.628), and Christian Schmitz (2.00.829).
Wrapping up the ten fastest qualifiers was another impressive event wildcard Felix Nassi (2.01.209) and arguably at this moment in time Switzerland's leading international road racer, Lukas Maurer (2.01.375).
Although the weather once again provided tricky conditions for competitors, you can just sense that if track conditions dry up in time for this afternoon's opening middleweight class race, were in for a truly exhilarating, enthralling, typically close and hard fought battle for Supersport honours.
Qualifying Results:
1 Pauli Pekkanen 1.57.127
2 Matthieu Lagrive 1.58.321
3 Thomas Walther 2.00.039
4 Laurent Hoffmann 2.00.322
5 Jonathan Goetschy 2.00.568
6 Anssi Koski 2.00.577
7 Pierre Yves Bian 2.00.628
8 Christian Schmitz 2.00.829
9 Felix Nassi 2.01.209
10 Lukas Maurer 2.01.375
11 Jochen Rotter 2.01.740
12 Ilja Caljouw 2.02.410
13 Peter Paloranta 2.02.541
14 Henrik Voit 2.03.641
15 Tapio Mustonen 2.04.215
16 Sebastian Frotscher 2.04.597
17 Mikko Uski 2.04.729
18 Miroslav Sloboda 2.05.118
19 Jani Vaahtera 2.06.100
20 Artur Zangiev 2.06.586
21 Pertti Lindegren 2.07.150
22 John Ross Billega 2.07.457
23 Erwan Bannwart 2.11.226
24 Aleksi Nikolaev 2.12.725
Words by Stevie Rial