Eight times Scarborough gold cup winner Guy Martin leads the entry for this years Ian Watson spring cup road races. Guy was in record breaking form at last September's Scarborough gold cup and is once again back with Tyco Suzuki by TAS for this years road racing season.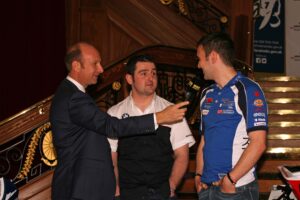 Photo courtesy of Rod Neill
Team mate to Guy this season at Tyco Suzuki by TAS is William Dunlop. William lapped quicker than he had ever done before at Oliver's Mount during last years Scarborough gold cup and will be looking to carry this form over to this years spring cup.
The challenge to the Tyco Suzuki by TAS riders will be lead by last years Duke road race championship Dean Harrison. Dean and RC Express racing Kawasaki had a fantastic year of racing at Oliver's Mount in 2013, Dean will be looking for more wins around the mount when competing on the teams superbike at this years spring cup.
Arguably one of the main highlights for Dean at the spring cup will be his first race outing's on the Mar-Train racing R6 Yamaha. The reigning British supersport champions Mar-Train racing have signed Dean for this years international road races, the spring cup will present a good opportunity to get good race practice in ahead of the North West and Isle of Man TT.
All eyes will be on Ryan Farquhar's highly anticipated return to road racing at the spring cup. Ryan who announced in December last year his return to the Isle of Man TT for the lightweight TT race is back at Oliver's Mount for all meetings this year beginning with competing in the super twin races at spring cup, which Ryan has won overall five times.
The third fastest rider in TT history Conor Cummins is back competing at Oliver's Mount for only the second time. Conor last competed at Oliver's Mount during the 2008 Scarborough gold cup when the two metre man competed on a RS250 Honda in the 250 races. Factory Honda rider for 2014 Conor is back at Oliver's Mount for this years spring cup where he will be looking for top results when competing in the supersport and superbike races for Jackson racing on the teams new CBR 600 Honda, which was raced in the 2013 British supersport championship by Jason O'Halloran.
Current Irish road race super twins champion Jamie Hamilton will start as one of the favorites for victory in both super twin races. Jamie is having his first outing on the Stewart Smith racing ER6 Kawasaki which Jamie is also riding in this years lightweight TT.
Jamie's main rivals in the super twin races look set to include James Cowton. James is competing for Stewart Smith racing this year in the super twin class and will be confident of recording good results. But James will be competitive in all races at the 2014 spring cup including the superbike races which will be James first competitive outing on the SJP moto CBR 1000 Honda Fireblade, which James is also competing on at this years Isle of Man TT.
Another exciting entry for the 2014 Ian Watson spring cup road races is Lee Johnston competing for East Coast racing on CBR 1000 Honda Fireblade and CBR 600 Honda in the superbike and supersport races. Lee on his debut at Oliver's Mount last year recorded a brilliant third place finish in the opening first leg of the David Jefferies cup supersport 600 races.