Smiths Racing's Peter Hickman powered to Dundrod 150 Superbike pole position, as he got his 2017 MCE Insurance Ulster Grand Prix campaign, off to the best possible start.
Carrying on his great form from the most recent BSB round at Thruxton, the three times international road race winners lap speed of 131.757 was over a second quicker, than nearest challenger Bruce Anstey (131.071) on the exotic RC213V-S Honda.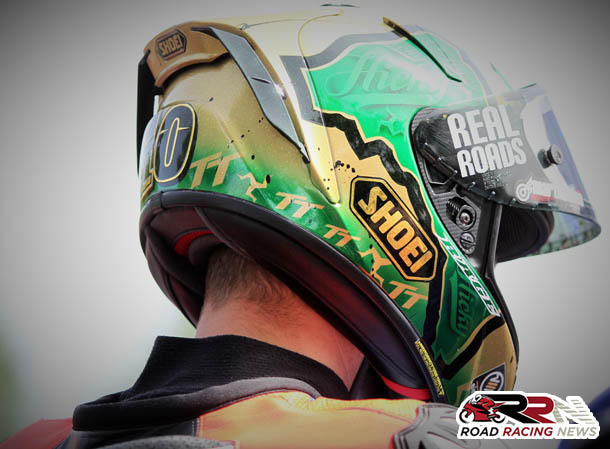 Padgetts team mate Conor Cummins (130.508) finished third fastest, whilst William Dunlop (129.248) raised an eye brow or two in finishing an excellent fourth quickest on the Temple Golf Club Limited YZF R1M Yamaha.
Cookstown BE Racing's Derek Sheils (128.336) lead the Suzuki challenge, as 15 times TT winner Michael Dunlop (128.177), appearing to have slight issues with the Bennetts Suzuki, endured a low key qualifying session, finishing sixth on the time sheets.
The top ten within a qualifying session graced by great weather around Dundrod, was concluded by Dean Harrison (128.072), new Tyco BMW signing Dan Kneen (127.976), Jamie Coward (127.089) and Fleetwood Grab Services backed David Johnson (126.949).
Outside of the pace setters, it was recent Irish roads revelation Davey Todd, who lead the Newcomers brigade, finishing a very respectable 28th quickest, lapping at 121.593 mph.
MCE Insurance Ulster Grand Prix – Dundrod 150 Superbike Qualifying Results:
1 Peter Hickman 131.757
2 Bruce Anstey 131.071
3 Conor Cummins 130.508
4 William Dunlop 129.248
5 Derek Sheils 128.336
6 Michael Dunlop 128.177
7 Dean Harrison 128.072
8 Dan Kneen 127.976
9 Jamie Coward 127.089
10 David Johnson 126.949
11 Lee Johnston 126.913
12 Daley Mathison 126.477
13 Derek McGee 125.161
14 Phil Crowe 124.818
15 Sam West 124.409
16 Alistair Kirk 124.075
17 James Cowton 123.901
18 Mark Goodings 123.351
19 Dan Hegarty 123.181
20 Paul Jordan 122.968
21 Michael Sweeney 122.921
22 Dominic Herbertson 122.740
23 Brian McCormack 122.591
24 Dan Cooper 122.422
25 Seamus Elliott 122.286
26 Ivan Lintin 122.151
27 Rob Barber 121.623
28 Davey Todd 121.593
29 Fabrice Miguet 121.127
30 Davy Morgan 121.072
31 Mark Parrett 120.812
32 Xavier Denis 120.365
33 Frank Gallagher 119.893
34 Neil Kernohan 119.846
35 Dave Hewson 119.202
36 Alan Connor 118.828
37 Graham Kennedy 118.704
38 David Jackson 117.701
39 Forest Dunn 117.100
40 Stephen McKnight 116.993
Words by Stevie Rial