FonaCAB/Nicholl Oils will jointly take on the role of title sponsors for this years North West 200, following official confirmation today from event organisers that they will take over from Vauxhall as lead backers of the legendary International roads meeting.
Established as Northern Ireland's number 1 taxi services company, FonaCAB are no strangers to the roads scene having sponsored in recent times leading racers including Triangle king Glenn Irwin, six times International Road Race winner Lee Johnston and rising star Paul Jordan.
Speaking about providing joint title sponsorship for the 2019 North West 200, FonaCAB Director William McCausland candidly stated:
"This is a unique opportunity and a great honour for our company to become one of the title sponsors of such a prestigious international event as the North West 200, especially in its landmark 90th year.
The NW200 is the jewel in the crown of the International road racing calendar, bringing the best road racers on the planet to these shores.
fonaCAB are delighted to welcome all the teams, competitors and fans to this year's event. Our sponsorship provides us with an excellent opportunity to enhance our commitment to supporting growth and prosperity in the local communities through sport."
Photo by Stephen Davison
Joining FonaCAB as confirmed new joint title event sponsors are Northern Ireland's number 1 leading independent oil distributor Nicholl Oils.
The company which will be celebrating soon it's 60th birthday, are thrilled to be backing the North West 200, which celebrates this May it's 90th anniversary.
Speaking about the company's role in the 2019 FonaCAB International North West 200 in association with Nicholl Oils, Nicholl Oils Group Managing Director Hugh Nicholl stated:
"We are thrilled to become one of the title sponsors of the NW200 in this its 90th anniversary year. When Mervyn approached us about becoming a sponsor we were delighted that we could help continue the great work of all the people involved with the NW200, to ensure it remains the premier International road racing event.
Like the North West 200, Nicholl Oils, is a business that has been established for a long time in the North West of the Province.
We supply oil products to local homes and businesses throughout Northern Ireland. Through our commitment to the North West 200 in 2019, we are now supporting Northern Ireland's largest outdoor sporting event."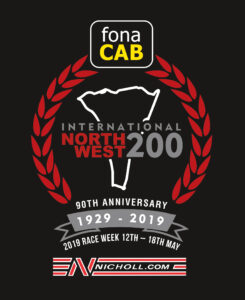 Photo courtesy of Stephen Davison
North West 200 Event Director Mervyn Whyte MBE, added:
"We are delighted to welcome fonaCAB and Nicholl Oils on board in this very special year for the North West 200 motorcycle races.
It is an indication of the event's prestige that it attracts the support of companies with such major profiles as these businesses.
Northern Ireland's major sporting attraction is an annual event that receives global exposure. Everyone involved in the races will work tirelessly to ensure all of our sponsors enjoy and benefit from their involvement in this great event."
Reminder the 2019 FonaCAB International North West 200 in association with Nicholl Oils takes place from the 12th to the 18th of May.
The likes of Michael Dunlop (Tyco BMW), Glenn Irwin, the Honda Racing duo of Ian Hutchinson and David Johnson, Dean Harrison (Silicone Engineering Racing) and Conor Cummins (Padgetts Racing) are all confirmed for competition on the iconic Triangle course, which will no doubt be host to more captivating, thrilling race action in May.
Words by Stevie Rial