Beginning at 4:00 PM, the re-started Bennetts Senior Classic TT encounter went to the form book, as John McGuinness retained in style the Senior Classics title.
Enjoying a 17 second advantage at the end of the opening lap of the reduced in distance three lap race, there was no stopping 23 times TT winner McGuinness, who went onto emerge victorious by 27.793 seconds.
Photo by Mark Corlett
Now a three times Classic TT Champion, McGuinness third successive triumph with the Team Winfield squad takes his combined total of TT, Classic TT victories to 26.
Photo by Nick Wheeler
Lead chaser this afternoon to the established TT great, was first time Mountain Course rostrum finisher Stefano Bonetti.
Finalising the podium finishers behind Speed Motor Paton mounted Bonetti was Ted Woof/Craven Classic Racing's Norton mounted Jamie Coward.
For the fourth successive year, the lead challenger to the all conquering 500 Paton's, Coward's run to third was made all the more impressive given his straight line speed deficit to the great sounding Italian machines.
Just over 13 seconds behind TT Privateers Champion Coward, fourth place finisher Maria Costello MBE had another strong stint on the Beugger Racing Paton.
Wrapping up the first six finishers were Alan Oversby (Honda Ireland) and Irish Road Race Superbike Champion Derek Sheils (Greenall Racing).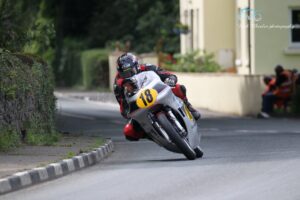 Photo by Nick Wheeler
Positions 7th-10th were clinched respectively by Chris McGahan, Hefyn Owen, Dave Matravers and Steadplan Primus Racing's Ben Rea.
Others to secure notable finishes included Will Loder (11th), Keith Clarke (12th), the most finishing rider in TT history Dave Madsen Mygdal (13th) and 16th place finisher, all round two wheel racing stalwart Arthur Browning.
In total just 19 racers completed this afternoon's re-started Senior Classic TT, showcasing again the on the knife edge reliability of the yesteryear 500cc steeds.
Bennetts Senior Classic TT race result, is as follows:
1 John McGuinness
2 Stefano Bonetti
3 Jamie Coward
4 Maria Costello MBE
5 Alan Oversby
6 Derek Sheils
7 Chris McGahan
8 Hefyn Owen
9 Dave Matravers
10 Ben Rea
11 Will Loder
12 Keith Clarke
13 Dave Madsen Mygdal
14 Colin Stockdale
15 Alec Whitwell
16 Arthur Browning
17 Grant Sellars
18 Ian Bainbridge
19 Gary Freeman
Words by Stevie Rial