Kostamo Confident Of IRRC Superbike Title Challenge
Widely touted as Finland's leading pure road racer, upcoming North West 200 debutant Erno Kostamo heads into this years IRRC series, confident of contending for the Superbike Championship crown.
Third in last years IRRC Superbike Championship, the highly respected Kostamo 2019 series challenge as in 2018, will see him pilot S1000RR BMW machinery.
In a big change to last year, which saw him compete under the Markka Racing banner alongside Juha Kallio, Kostamo's second full scale IRRC campaign, will be an in house program, competing for his own team, titled Naulankanta 38 Motorsport.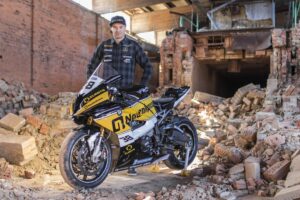 Photo courtesy of Juuso Valtakari
Commenting on the season ahead, his new Privateer team project, the Finnish star stated:
"During last autumn I started to develop this idea of setting up my own team, mostly because it would give me so much more flexibility on how to do things overall, especially give me more better ways to support my sponsors through out the season.
At first it was actually a bit terrifying to carry all the responsibility, on top of the racing & training, but quite rapidly I got the necessary partners & people on-board, and it was clear that I'm able to enter the series with a title-worthy bike & team."
Alongside his racing activities, Kostamo is also this year giving his fans, race fans across the Europe the chance to win gift cards, thanks to his new sponsorship agreement with XLMOTO.
In terms of prizes for the EU affiliated public, the rewards process is as follows: Kostamo finishes overall fifth/fourth in IRRC races (One 100 Euro gift card), Kostamo finishes overall third or second in IRRC encounters (One 150 Euro gift card), Kostamo finishes overall race winner at any IRRC round (One 200 Euro gift card).
Words by Stevie Rial