Disappointingly only seven bikes took to the start line, for the 2016 SES TT Zero race, the SP7 Sarolea's set to be piloted by Dean Harrison and Lee Johnston, where both non starters, as was Shaun Anderson and former winner Rob Barber.
As expected the Shinden Go Mugen's lead the way to Glen Helen, Victory Racing's William Dunlop third, wasn't far back, Daley Mathison held fourth place as AJ Venter and Timothee Monot completed the top six.
Courtesy of transponder issues it was difficult to tell which of the Mugen's where out front at Ramsey Hairpin, at Ballaugh Bridge, John McGuinness held a 3.378 second over Bruce Anstey, William Dunlop third was keeping tabs on the all star duo.
Photo by Mark Corlett
John McGuinness prior to Ramsey Hairpin, encountered issues, this allowed Mugen team mate Bruce Anstey to move into race lead, William Dunlop moved up to second whilst Daley Mathison was up to third, on the Nottingham University machine.
Persistent transponder problems meant that we didn't know who was in the lead at the Bungalow and Cronk Ny Mona.
At the end of the one lap race, Bruce Anstey crossed the line, to clinch his 11th TT victory.
William Dunlop finished a great second as Daley Mathison rounded out the podium finishers, Daley was absolutely delighted to secure his maiden TT podium finish.
John McGuinness fourth, was desperately disappointed not to make it a hat trick of TT Zero victories whilst AJ Venter fifth, secured a huge new personal best TT Races result.
With just seven starters, it's fair to say the overall field for the 2016 SES TT Zero race, was in my opinion a low quality one.
Taking nothing away from Bruce Anstey, a deserved race winner, it was a race that showcased the current problems in my opinion of the race for the innovative electric machines.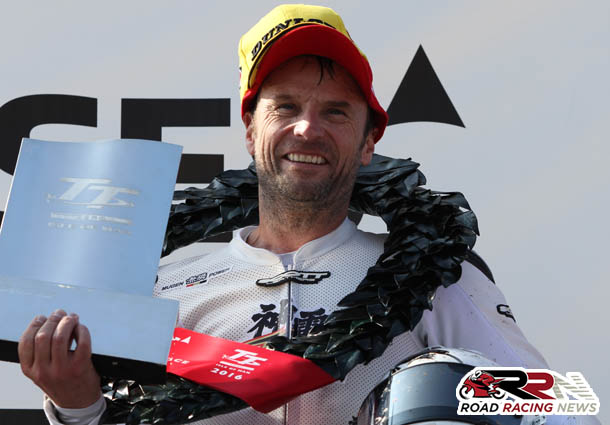 Which are a lack of manufacturer representation, lack of entries, visibly outclassed machines compared to for example the Mugen's.
When the Isle of Man TT, first began in 1907, we had 14 entrants in the first ever race at the most famous road race in the world.
Now eight years into electric bike competition at the Isle of Man TT, the entries have in recent years, gradually gone down.
The potential is there for the TT Zero class, to have a wide ranging diverse entry list, at present though we don't have this and many are questioning why it is considered a TT victory.
Hopefully in years to come, we will see the class get bigger and bigger, for now Mugen remain the dominant force.
TT 2016 – SES TT Zero Results:
1 Bruce Anstey
2 William Dunlop
3 Daley Mathison
4 John McGuinness
5 AJ Venter
Words by Stevie Rial