Ten Questions Challenge – Darren James
Amongst the leading Mountain Course newcomers of TT 2016, a top six finisher at the Vauxhall International North West 200, Canadian roads great Darren James is the next racer to take part in Road Racing News, ten questions challenge.
A recent seventh place finisher at the Daytona 200, his answers to the popular series of questions, are as follows:
Q1: Favourite National Roads Meeting?
"I would have to say Armoy. The people running the event are amazing and the first year I raced the event I stayed with event organisers Bill Kennedy and his partner.
That was great because of the history Bill has with Road Racing. It was a pleasure and an amazing history lesson we all truly enjoyed."
Q2: Favourite Racing Bike?
"I have two Favourite Bikes. My Factory Buell XB9R that helped me win back to back Canadian Thunder National Championships in 2005 and 2006. Also my Yamaha R6. Lots of fond memories from both."
Q3: What's the best part of competing on the roads?
"There are quite a few things that make up the best bits of racing the Roads. History, the absolute purity of it, the competitors and legends from before, the incredibly knowledgeable fans, and the absolute focus one must have to compete on the roads."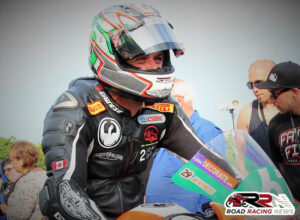 Q4: TT, North West 200 or Ulster Grand Prix?
"I love racing the North West 200. It was my first International Road Race. But it sure was an honour and privilege to race the historical Isle of Man TT."
Q5: Most Respected Rival?
"I honestly can't say I have any real rivals so to speak. But having Ryan Farquhar and Jeremy McWilliams as team mates when with KMR Kawasaki, helped a ton with my progress on the roads.
But also I had to be at my absolute best. Those boys are both crazy fast and amazing guys. So I had to represent the Canadian flag well."
Q6: Best roads moment thus far?
"Finishing 26th within the Lightweight race of TT 2016, in the process finishing leading and fastest newcomer."
Q7: Is their one place or country in the world, where you would like to see a roads meeting held?
"Would love to see a road race in Canada on the West or East Coast, both areas have amazing roads."
Q8: Who's your road racing hero?
"Joey Dunlop, plus the whole Dunlop dynasty."
Q9: Supersport or Superbike?
"Supersport"
Q10: Pole position or fastest lap?
"Pole position"
Words by Stevie Rial