The top 20 seeded start numbers for the 2016 Sure Sidecar TT Races, have been announced.
17 times TT winner Dave Molyneux teaming up for the first time in seven years with fellow TT legend Dan Sayle, leads both races away, as he retains the number one plate, this time on Klaus Klaffenbock/Manx Gas backed outfit.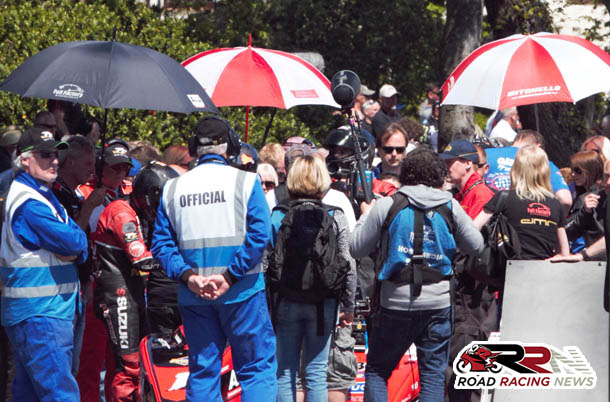 Second away are the formidable pairing of Ben Birchall/Tom Birchall, who where amongst the undoubted brightest stars of TT 2015.
Their outfit for TT 2016, is set to carry backing from IEG (International Energy Group) who also sponsor three time TT winner Ryan Farquhar.
Next up at number three is Silicone Engineering Racing's John Holden/Andy Winkle, who are as determined as ever, to add to their one victory at present at TT Races.
2014 sidecar TT championship winner Conrad Harrison number five, has a new passenger for TT 2016 in the form of Dean Kilkenny, who joins him in Printing Roller Services backed outfit.
Whilst father and son duo Ian Bell/Carl Bell next away, are more than capable of sealing series of podium finishes.
Away at number seven is rising star Alan Founds joined by Aki Aalto, holding the number eighth plate is GBM Demolition backed Gary Bryan/Jamie Winn.
Karl Bennett/Lee Cain and Gary Knight/Daniel Evanson round out the top ten starters.
Wayne Lockey/Mark Sayers number 11, Matt Dix/Shaun Parker number 12, Darren Hope/Paul Bumfrey number 13, Robert Handcock/TBA, Steve Ramsden/Matty Ramsden number 15 all have the talent to record string of first class results.
Same applies to Tony Baker/Fiona Baker Millgan number 16, Gordon Shand/Phil Hyde number 17, the evergreen Roy Hanks/Kevin Perry number 18 and John Saunders/Frank Claeys number 19.
Top 20 seeded starters is finalised by Austria's Michael Grabmuller/Manfred Weschelberger.
TT 2016 Sure Sidecar Races, top 20 start numbers as follows:
1 Dave Molyneux/Dan Sayle
2 Ben Birchall/Tom Birchall
3 John Holden/Andrew Winkle
4 Tim Reeves/Patrick Farrance
5 Conrad Harrison/Dean Kilkenny
6 Ian Bell/Carl Bell
7 Alan Founds/Aki Aalto
8 Gary Bryan/Jamie Winn
9 Karl Bennett/Lee Cain
10 Gary Knight/Daniel Evanson
11 Wayne Lockey/Mark Sayers
12 Matt Dix/Shaun Parker
13 Darren Hope/Paul Bumfrey
14 Robert Handcock/TBA
15 Steve Ramsden/Matty Ramsden
16 Tony Baker/Fiona Baker Milligan
17 Gordon Shand/Phil Hyde
18 Roy Hanks/Kevin Perry
19 John Saunders/Frank Claeys
20 Michael Grabmuller/Manfred Weschelberger
Words by Stevie Rial