Established amongst the fastest rising stars on the roads, Paul Jordan is all set to make his first tilt onto 1000 machinery, at the upcoming MCE Insurance Ulster Grand Prix with Robbie Silvester's VRS Racing team.
Paul is set to compete on a CBR 1000 Honda Fireblade, in the Dundrod 150 superbike race, followed by the superstock and superbike Ulster GP races.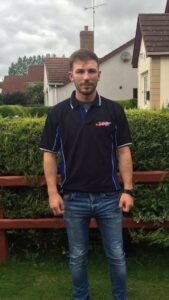 Photo courtesy of Robbie Silvester
Although he's a newcomer to the 1000 machinery, Paul has shown in recent years his diverse ability across multiple classes, varying from 125 to super twin to supersport.
Currently leading the Irish road race super twins championship, he goes into the MCE Insurance Ulster Grand Prix, definitely one to watch.
His first voyage onto a superstock mount, will be watched closely by many.
VRS Racing, Team Manager, Robbie Silvester is delighted to have secured Paul's services, for the world's fastest road race. He is confident that the rider aiming to make his TT Races debut next year can be amongst the leading Honda mounted competitors.
Joining Paul Jordan in the VRS Racing fold, for the Ulster GP are father and son duo Nigel Rea and Ben Rea.
Their first foray into action at Dundrod sees Nigel GSX-R 600 Suzuki mounted for the supersport races, whilst his son Ben is set to compete across all classes including in the superbike races on a S1000RR BMW.
Plus VRS Racing, will have a machinery line up, covering in total four manufacturers, Honda, Yamaha, Suzuki and BMW.
A unique aspect for a team which over the years has given big breaks to many a rising roads star.
Words by Stevie Rial