After a gap of three years the Mid Antrim 150 is back. The meeting which has secured title sponsorship from JFM Haulage, opens the 2016 Irish road racing season, on the 1st to the 2nd of April.
There's 12 races in total at the two day meet, which includes 125, 250, 400, 650, junior support, senior support, supersport and superbike action.
Open/Grand Final:
Top quality open and grand final races are in prospect at Mid Antrim, with a high quality field which comprises of international road race winners, rising stars, up and coming road racers and notable newcomers.
Amongst the stand out entrants includes seven times Duke Road Race Rankings champion Ryan Farquhar.
Set for his first roads action on BMW Motorrad machinery, the three times TT winner starts one of the pre race favourites, as he pilots IEG (International Energy Group) backed S1000RR BMW.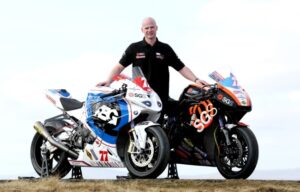 Photo by Stephen Davison
Joining Ryan in been a newcomer to BMW Motorrad machinery is reigning Ulster Grand Prix super twins winner, Derek McGee.
Tipped for many a great moment between the hedges in 2016, Derek and the Noel Williamson Racing S1000RR BMW, could well prove the combination to beat around Mid Antrim.
Same applies to 2013 Irish road race superbike champion Derek Sheils, piloting Cookstown Burrows Engineering Racing's proven GSX-R 1000 Suzuki superbike.
Without a doubt one of the firm favourites for open and grand final victories, Derek in 2013 at Mid Antrim, was victorious in the open race, when piloting CD Racing ZX10R Kawasaki.
One of the most improved riders on the roads in recent years, Seamus Elliott is one to watch, as he competes on his own teams ZX10R Kawasaki.
Set to make his TT debut with The Peoples Bike Team, it's set to be a highly enterprising season of pure road racing action for the winner of the opening supersport race at the Southern 100 in 2015.
Two time junior Manx Grand Prix winner Michael Sweeney goes into the weekend's action as the reigning grand final winner.
Piloting Martin Jones Racing backed Kawasaki, he has the proven pace and ability to record results of the highest quality.
One of the eye catching combinations for Mid Antrim, will be the combination of Michal Dokoupil and Wilson Craig Racing's superstock CBR 1000 Honda Fireblade.
Although more known for his supersport and super twin exploits, don't discount Michal from been in contention for top three finishes.
Same goes for Magic Bullet backed Davy Morgan, who has the pedigree to finish on the podium in both blue riband races at Mid Antrim.
Additional quality to the entry list is added by 2009 TT zero winner Rob Barber piloting PRB Racing YZF R1M Yamaha, Logan Racing's Neil Kernohan, 2013 junior Manx Grand Prix winner Wayne Kirwan, Paul Jordan and Richard McLoughlin.
Newcomers to watch include 2015 senior Manx Grand Prix winner Malachi Mitchell Thomas. A new addition to John Burrows Cookstown BE Racing outfit, Malachi is tipped by many to in the future become a multiple international road race winner.
His Irish road racing debut this weekend at Mid Antrim, will be watched closely by many.
Supersport:
Supersport races always provide closely fought action, and this weekend at the Mid Antrim, it's set to be no different.
Noel Williamson Racing's Derek McGee YZF R6 Yamaha mounted, will start one of the warm favourites for supersport success.
The 2014 Irish road race supersport champion has developed in recent years into one of pure road racing's fastest rising stars.
Same has to be said of Seamus Elliott, who in my opinion will prove the main challenger to Derek McGee, for supersport victory.
Michael Sweeney is another potential race winner, as he pilots Tracblast backed YZF R6 Yamaha. Like Seamus Elliott he has enjoyed over the years great success on 600 machinery, in particular at the Manx Grand Prix with his 2010 and 2013 junior Manx Grand Prix victories.
Photo by Rod Neill
Rising stars Thomas Maxwell and Paul Jordan both have the talent to be in contention for at least a top three finish, same applies to Michal Dokoupil on the Motopoint backed YZF R6 Yamaha.
Add in Wayne Kirwan, Rob Barber, Neil Kernohan, Dario Cecconi, plus newcomers Chris Dixon, Sam Johnson and Cookstown BE Racing's Malachi Mitchell Thomas, and your virtually guaranteed an enthralling supersport race.
Super Twins:

As often is the case, the super twins field is anticipated to be dominated by ER6 Kawasaki machinery.
For many the pre race favourite will be Ryan Farquhar. For many years Ryan was pretty much untouchable in the super twins class.
This is not so often the case now, but he's still extremely hard to beat on his own teams ER6 Kawasaki, which is backed this year as in 2015 by SGS International.
Michael Sweeney has enjoyed many a top draw moment on super twins machinery in the 2010's, expect him to be firmly in contention for victory on Kielty Heating backed ER6 Kawasaki.
Current Irish road race super twins champion Derek McGee, is regarded by many as one of pure road racing's leading super twin exponents.
Set to pilot his own teams ER6 Kawasaki backed by Shane Wogan, he's very much a pre race favourite.
Overall quality of the super twins entry is bolstered by Michal Dokoupil and Veronica Hankocyova on RT+E Racing ER6 Kawasaki's, plus Malachi Mitchell Thomas who despite been a newcomer could well prove a contender for a podium finish.
125/250/400:
Joey's Bar Racing have a three rider line up for the 125 race at Mid Antrim, which comprises of Sam Wilson, Derek McGee and Joey Dunlop's son Gary Dunlop, making his pure road racing debut.
Joey's Bar Racing's all star line up adds another factor to the meeting. Main competition to the teams RS 125 Honda's is set to come from Neil Kernohan, Paul Robinson and Sam Dunlop.
Stand out entrants for the 250 race include Sam Wilson, Barry Davidson and Tommy Henry, planning to make his Mountain Course debut this year at the Manx Grand Prix.
Leading 400 entrants include Stephen Morrison and Paul Black Racing's Gavin Brown, who finished third in the 2014 newcomers c Manx Grand Prix race.
Round Up:
With a wide ranging diverse entry list, that sees a mixture of new machinery going up against seasoned machines a plenty, where set to see pure road racing of the highest quality, this weekend at Mid Antrim.
It's great to see the Mid Antrim 150 back, over the years many a famous name has been victorious, at the popular meeting.
This includes Ryan Farquhar, who will be determined to open his 2016 roads campaign, with a series of results of the highest quality.
For me though one of the main exciting aspects of the two day meeting will be Malachi Mitchell Thomas making his Irish road racing debut.
Although he's a newcomer to Mid Antrim, don't be surprised if by the end of the meeting, he's pushing the likes of Ryan Farquhar, Derek Sheils and Derek McGee.
With just two and a bit days to go till action begins, all competitors, teams, marshals and the organisers, are all eagerly anticipating the opening round of the 2016 Duke Road Race Rankings championship.
Words by Stevie Rial