The addition of Michael Dunlop, to the entry list for this years Wanganui Road Races, added without a doubt, a world class, star quality feel to the field, for the eight and ten lap Superbike and Feature races.
Lapping under 51 seconds, the 13 times TT winner, qualified an extremely creditable sixth on his Suzuki New Zealand backed mount, for the F1 Superbike races.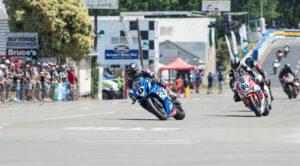 Photo by Craig Dawson
Ultimately the big bike encounters around the Cemetery Circuit, would prove frustrating ones, with series of non finishes.
Despite what unfolded in the races, you easily got the sense that Michael, enjoyed the new challenge, of taking on a roads circuit, at which he had not competed at before.
His appearance, at New Zealand's premier roads meeting, provided a huge boost for the popular event, in terms of a number of aspects, none more so, than the exposure it created.
It's great to see riders like Michael competing at Wanganui, in my opinion when riders like him compete at many of the roads meetings, not as widely known as for example the international meetings, it gives them an added extra platform, to showcase the sheer prestige of their events.
It's unclear as to whether Michael Dunlop, will be competing around the Cemetery Circuit in 2017, one thing's for sure though, his presence this year in New Zealand, captured the imagination of thousands, down under.
Words by Stevie Rial