Speculation continues to surround Michael Dunlop's plans for the 2014 road racing season.  In November, Michael announced his intentions of taking a year out, since then rumor a many is going around as to whether the road racing genius will be action in 2014. One of the manufacturers linked to gaining the four times in a week TT winner this year is BMW and IWR/Quay Garage racing, Buildbase BMW and BMW France are three of the teams associated in gaining Michael Dunlop's signature for the 2014 road racing season.
2013 has being a dream year for the rider who many people regard now as the leading road racer in the world. Victories at Scarborough gold cup, Southern 100, Armoy road races, North West 200, Ulster Grand Prix have proved the all round amazing talent that Michael Dunlop has on road race circuits.
At the start of 2013 the rider nicknamed Maverick joined the official Honda team for this years Isle of Man TT and North West 200. The partnership began in superb style with pole position achieved for the superbike races at the North West 200.  Next up was the Isle of Man TT and many peoples' eyes were on the combination of a road racing superstar and the works Honda team, how would they fare together? The question was answered: a superb debut Superbike TT win for Michael Dunlop. A new race record, quickest ever lap at the TT and a rider riding arguably the best he has ever rode,  culminated in a fantastic superbike TT race for both rider and team.  Michael then went on to take an exceptional second place finish in the senior TT.  Wins at the Southern 100 followed along with a second place and magnificent fastest lap achievement in the feature race at the Ulster Grand Prix.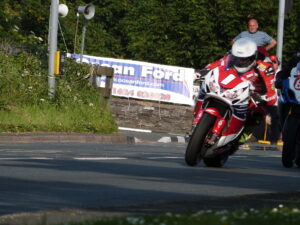 However, after all Michaels' fantastic 2013 year of racing, next year we will not see Honda and Michael Dunlop competing together.  One and all has been talking about the split and why the most successful road racer in 2013 and one of the leading teams in the paddock, will not be a force in 2014.  Everyone has their own viewpoint on the separation together with Michael's own reasons but one thing is for sure, the pure road racing world was stunned, breeding speculation about Michael's ride in 2014 that now has more spin and twist than a mystery crime novel! What can we believe and what does the future hold for Michael Dunlop in road racing?
In my opinion, I optimistically predict we will see 'Micky D' back in action in 2014, a special road racer, competing, contesting and amazing us all once again.
Stevie Rial
Road Racing News.