Michael Dunlop Endures One Of His Toughest TT's
Michael Dunlop endured one of his toughest TT's to date at TT 2015.
On Thursday of practice week Michael confirmed that he had parted company with Milwaukee Yamaha following a tough start to not only practice week on the mountain course but also to the 2015 road racing season.
For the rest of TT 2015 Michael switched to Buildbase BMW for superbike and senior races whilst supersport and superstock races would see him competing on his own teams CBR 600 Honda and S1000RR BMW.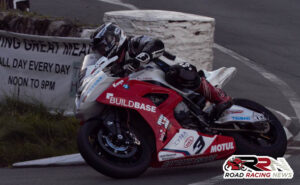 RST superbike TT saw drama a plenty for the 11 times TT winner who on lap six of the race was holding third position.
In the closing stages of lap six he was involved in an incident with Scott Wilson, soon after the race finished the 2014 senior TT winner made his way back to the grandstand but visibly in a lot of discomfort.
Monster Energy supersport race 1 was next on the horizon, despite still feeling the after effects of his incident in RST superbike TT Michael battled the pain barrier to compete on his own teams CBR 600 Honda.
The four lap race saw him retire on lap two when holding top 15 placing, having topped the time sheets during practice week in superstock class Michael was tipped by many to be in contention to add to his outstanding tally of 11 TT victories.
Following a world class performance second position was achieved in Royal London 360 superstock TT as he showed true grit and determination in achieving his first podium finish at this years Isle of Man TT.
After retiring on lap two of Monster Energy supersport race two attentions turned to the blue riband Pokerstars senior TT.
In the four lap re start Michael piloting Buildbase BMW's superbike recorded highly creditable fifth place finish, final lap of the race proved to be one of the road racing hero's best laps of his career to date.
Lap speed of 132.515 mph was achieved as he became the second fastest rider in TT history plus one of only five riders to have lapped at over 132 mph around the most famous road racing circuit in the world.
Although it's been an extremely challenging two weeks for Michael Dunlop at TT 2015 he's proved once again why he is considered one of the most naturally talented pure road racer's of the last twenty years.
Switching from Yamaha machinery in practice week to competing on BMW's would be considered a risk to many, but Michael proved during race week that he had made the right decision.
Anticipated next road racing action coming up for the fastest BMW mounted rider at TT 2015 is at the 60th Southern 100 where he has been victorious twice in the prestigious solo championship in 2011 and 2012.