International Road Races Wins Tally Continues To Grow For Michael Dunlop In 2014
In 2014 Michael Dunlop has proved again why he is considered by many to be the best road racer in the world. Michael's 2014 road racing season began at the Cookstown 100 where he had his first outing on his own teams superstock S1000RR BMW.
Opening race of the weekend invitational supersport race saw 4th place finish secured after a thoroughly determined performance given that Michael was suffering from an arm injury. Reliability issues meant non finishes in open and grand final races but still it was clear that the potential of his own teams S1000RR BMW was big going into the international road races.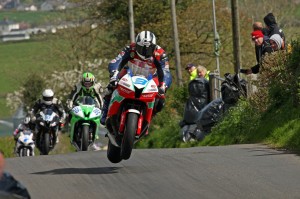 Photo by Rod Neill
Supersport feature race provided "Maverick" with his first win of the season after winning a pulsating race having battled throughout with brother William, Derek Sheils and Derek Mcgee.
Michael then made it two wins in a day following super twin race success on Gortreagh printing backed ER6 Kawasaki. This result proved to many who do not consider the road racing star as a super twins specialist that he is more than capable of securing international road race victories in this class in the future.
The Vauxhall international North West 200 was up next for the rider who everyone was keeping an eye on to see how quickly he could gel with the BMW Hawk racing superbike.
Third place finish in opening superstock race on Thursday night was a good way to start his race action around the triangle for 2014 following a hard charging performance where he extracted the maximum out of his own teams S1000RR BMW.
Onto day two of racing on Saturday and opening superbike race which was in many peoples eyes their highlight of the 2014 road racing season. Michael had battled way through to second position with two laps remaining with his brother William Dunlop holding race as the race entered its final stages.
By the final lap the BMW Hawk racing superbike and Tyco Suzuki by TAS superbike where separated by nothing. In the closing stages on final lap William Dunlop made a decisive move on Michael moving back into race lead and from here held onto take a famous victory.
Although he missed out on race victory Michael's second place finish was his second podium finish of the 2014 Vauxhall international North West 200 and it appeared only a matter of time before he added to his haul of two North West 200 victories.
Second place finish in super twins race followed after another determined and highly accomplished performance. Second superstock race would provide Michael with a hard earned race win, his third victory around the triangle.
Photo by Rod Neill
Feature superbike race beckoned and the question was could Michael secure his first major international road race superbike win with BMW? The answer was an emphatic yes after a tremendous ride on BMW Hawk racing superbike.
It wasn't an easy win at all for him though as Josh Brookes lead throughout before with two laps remaining Michael hit the front and from here established a comfortable gap to his nearest pursuers as he clinched for the first North West 200 feature superbike race victory.
After his North West 200 exploits next road race on the horizon for Michael was the biggest of them all the Isle of Man TT. After chipping away during practice week the pace of the BMW Hawk racing superbike was unleashed during Friday night's practice session with lap speed of 131.501 mph unofficially Michael's quickest lap speed around the mountain course.
Dainese superbike TT race began with Micky D opening up a 9.4 second lead at the end of the opening lap which saw him set a new outright lap record with lap speed of 131.730 mph. Then he broke the lap record again on lap 2! this time lapping at 131.890 mph.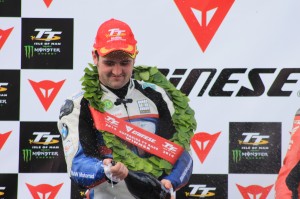 Photo by Road Racing News
From here he kept up a twenty seconds or more gap on Guy Martin in second position to clinch his 8th TT victory. Michael was delighted with the victory as was the BMW Hawk racing team, supersport race 1 saw third position secured after a gritty display on his own teams CBR 600 Honda.
Next up was the superstock race and the rider who made his debut on the most famous road racing circuit in the world back in 2006 at the Manx Grand Prix secured his ninth TT win after another highly accomplished performance this time on his own teams Michael Dunlop racing S1000RR BMW.
Photo by Road Racing News
Onto supersport race 2 where Michael was aiming to keep up his record of claiming supersport TT wins every year since 2012. The record continued with race victory by ten seconds after a commanding display as he made it three wins in a week plus ten TT wins in all.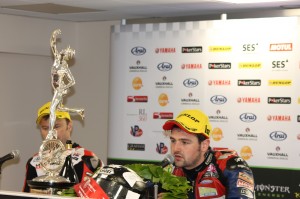 Photo by Road Racing News
Only one race remained for the now ten times TT winner at TT 2014 which was the blue riband race the senior TT. Despite a slow start by his standards on opening lap Michael powered his way to the front by the end of lap 1 holding a 0.8 second lead over Guy Martin.
Photo by Road Racing News
From here he always maintained a comfortable enough gap out front to clinch his first senior TT win plus BMW's first blue riband victory on the mountain course in 75 years. Plus the victory meant Michael's tally of TT wins is now 11 the same as road racing legends Steve Hislop and Philip Mccallen.
After his dazzling performances at this years Isle of Man TT attentions turned for Michael to the Southern 100. Opening 600/1000 race provided him with highly creditable third place finish as he almost secured second position on BMW Hawk racing superbike.
Photo by Louis Porter
Senior race saw another third position acquired again narrowly missing out on second place. Supersport races didn't at all go to plan for Michael as reliability issues stopped his challenge for more victories around Billown. In the Southern 100 solo championship which he has won two times he held third position by the end of lap two and was maintaining top three placing until issues struck the BMW forcing him out of contention.
At the Armoy road races top five finish in opening supersport invitational race was a solid start to start the popular meeting for Michael who was bidding for his fourth race of legends victory in a row.
Photo by Rod Neill
The open race run in tricky conditions all round saw second position recorded as Michael was reeling in Guy Martin towards the end of the race proving that the potential was there to claim the race of legends win.
In the race of legends Michael, Guy Martin, William Dunlop and Dan Kneen where all close together after opening laps but then the 11 times TT winner made a break and from here maintained his lead out front to secure his fourth race of legends win around Armoy.
Next road race coming up for him was the Ulster Grand Prix but first action of the week around Dundrod was in the Dundrod 150 where the superbike race would see third position secured lapping at over 133.1 mph as he gave it everything vying for another win around the fastest road racing circuit in the world.
Unfortunately for Michael the Ulster Grand Prix didn't go brilliantly as best result of the day for him was fourth position in feature superbike race where he was reeling in the leaders before dropping back in closing laps.
For the second year in succession Michael won the grand final race at the Killalane road races after another determined and masterful performance on his own teams S1000RR BMW despite starting from 14th on the grid. After Killalane the hugely popular rider's next road race outing was at the Frohburg road races where he would be teaming up with the Penz 13.com BMW team.
Having qualified third on the grid Michael was optimistic of pushing Didier Grams and Johan Fredriks for race victory in opening IRRC superbike race. Third position was achieved as he pushed the two riders vying for superbike international road racing championship victory all the way.
The second open race saw yet another what can only be described as a genius at work's performance as he secured his first win around Frohburg plus a new lap record lapping under 1 minute 34.4 seconds. This result was an excellent way to round off what has been once again a memorable year of road racing for Michael Dunlop.
Photo by Road Racing News
Looking to 2015 he looks set to stay with BMW as he will be bidding to acquire more TT victories, at present he is arguably the one everyone has to beat going into next years Isle of Man TT, how many wins can Michael record in the future on the mountain course, its an open ended question, no one really knows but one things for sure he is the current master of the most famous road racing circuit in the world.