Cowton Racing have confirmed that their 2020 roads challenge will see them join forces again with podcast star, 2018 Junior Classic TT winner Dominic Herbertson.
For 2020, Hexham's Herbertson who placed a very respectable 10th in last June's Bennetts Lightweight TT, Lightweight class challenge sees him set to pilot a brand new Z650 Kawasaki for the CC Engineering supported Cowton Racing squad.
Runner-up within the opening Super Twins encounter of the 68th Scarborough Gold Cup, Herbertson's year 2 stint with Cowton Racing alongside Lightweight TT action, looks set to also include competition at all Oliver's Mount meetings, plus selected Irish roads events.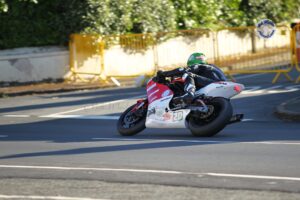 Photo by Nick Wheeler
Additionally targeting track time at Thundersport rounds, there's no doubt that the Herbertson/Cowton Racing combination has the potential to prove equally mutually beneficial for each other in 2020.
A team statement issued today via Facebook, provides further detail on the latest 2020 International roads development. It reads:
"We are very happy to announce that Dominic Herbertson will be continuing his support and ride with us hopefully on the new Cowton Racing by CC Engineering Z650 in 2020. The Z650 is currently being built over this winter, keep an eye out for pictures and updates!
Domimic will be riding the Z650 twin along side his main ride with Davies Motorsport, which we would like to Congratulate Dom on.
We would like to take this opportunity to say a huge Thank you to all of our sponsors who have continued their support throughout the 2019 season. If you wish to support us again in 2020 please get in touch, it would be much appreciated.
We also hope to have someone on-board our 600 providing we have the funds available to run it. Again if anyone would be interested in supporting this please get in touch, it would be much appreciated.
We look forward to seeing everyone again in 2020 for a safe, fast season!
Remembering James Cowton Always. #52"
Words by Stevie Rial