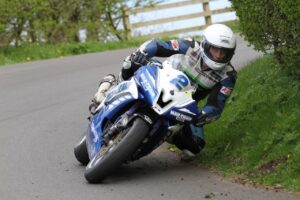 Picture courtesy of Louis Porter, Lap Concepts
Dean Harrison during the Ian Watson spring cup road races proved the potential of the Mar Train racing R6 Yamaha with a superb ride to second place in supersport A race. Having started sixth on the grid Dean had to work his way through to second place once there he set consecutive quick lap times as he took the race to Guy Martin for race victory.
For Mar Train racing the spring cup was the teams first outing at Oliver's Mount, the reigning British supersport championship winners are set to return to the mount during the Cock of the North road races and Scarborough gold cup this year. Next road race coming up for Dean and Mar Train racing is the Vauxhall international North West 200 where Deano has every chance of securing his first North West 200 podium finishes in both supersport races.