Bragg Creek Powersports have announced their plans for the 2016 Classic TT Races.
2009 senior Manx Grand Prix winner Michael Russell, remains with the team piloting the same RC30 Honda which he propelled to 16th place finish in this years formula 1 classic TT.
He's set to be joined in the team by an as yet to be announced rider, who competes in the Isle of Man TT, this rider is all set to compete on a ZXR 750R Kawasaki.
2015 classic TT, marked Bragg Creek Powersports, first time competing around the iconic mountain course.
The teams RC30 Honda travelled all the way from Alberta, Canada with team owner Jon Paskett.
Jon is currently on the lookout for sponsorship for the classic TT, as his team bids for series of top quality results.
A former racer, Jon decided in 2014 to take the RC30 to the classic TT. Having failed to gain an entry in 2014, for 2015 he linked up with the highly accomplished pure road racer Michael Russell.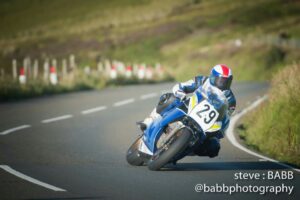 Photo by Steve Babb
Alongside Michael's 16th place finish in formula 1 classic TT, he also lapped in excess of 117 mph becoming the fastest Honda mounted rider in the race.
One of the great parts of the Classic TT Races, is the stories behind the machines competing.
In the Bragg Creek Powersports team ran by Jon Paskett's case, they have travelled all the way from Alberta, Canada, in accomplishing a lifetimes ambition.
There's every chance the team could enjoy a top ten finish in 2016 formula 1 race, as Michael Russell and a still to be announced TT competitor, lead the teams challenge.